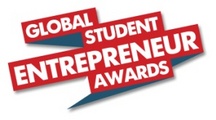 ALEXANDRIA, VA -- (Marketwire) -- 11/12/09 -- The Global Student Entrepreneur Awards (GSEA), the premier competition for undergraduate students running a business while still in school, today announced the top student entrepreneurs from around the world who are scheduled to compete at the 2009 GSEA Global Finals at the Ewing Marion Kauffman Foundation in Kansas City, Missouri, during Global Entrepreneurship Week. The students represent 18 countries and some of today's brightest, most innovative and forward-thinking individuals, laying the foundation for economic turnaround across the globe.
The GSEA also introduced a roster of influential judges. These individuals were selected based on their individual expertise and dedication to the cause of inspiring the next generation of entrepreneurs. During the Global Finals, students will present their businesses to these judges in four categories including: The Entrepreneur, Business Fundamentals, Lessons Learned, and Growth and Future Plans.
"I find returning as a judge to be invaluable. GSEA gave me the confidence, resources and network I needed to take my company to the next level," said Fraser Doherty, 2007 Global Winner, SuperJam. "Our world can truly be changed by the innovations of entrepreneurship and small business -- no matter the age of those behind the big ideas."
The 2009 GSEA winner will not only be crowned the world's top student entrepreneur, but will also receive $150,000 in cash and donated services such as: mentorship, office goods, legal services, access to the Entrepreneurs' Organization's global network and more.
"This year, we've expanded to 27 countries and have seen an unprecedented amount of quality nominations," said Kevin Langley, Chairman Elect-Elect EO Global. "These finalists represent the future of entrepreneurship and job innovation and the GSEA's goal -- along with the Entrepreneurs' Organization -- is to provide them with the platform to execute on their already visible natural abilities."
All 2009 GSEA finalists and participating final round judges are listed below. For more information on the GSEA or to attend the Global Finals, please contact Jessica Fletcher at [email protected] or visit www.gsea.org.
                  2009 GSEA FINALISTS

       Name              Country            Company
Milan Tesovic          Canada          MetroLeap Media Inc.
Arvid Morin            Sweden          Ung Omsorg
Gabriel de Jesus-Ruiz  Puerto Rico     Popeye's Supermarket
John Xie               USA             Cirtex Corp.
Jamie Xuereb           Australia       Mediapoint Pty Ltd.
Nakul Jamadagni        India           Vita Beans Neural Solutions
                                       Pvt. Ltd.
Kieran O'Callaghan     Ireland         Vision Research Enterprises
Gundeep Hora           USA             iTechMedia Inc.
Chelsea Eubank         USA             Faithful Fish
Lawrence Kim           Singapore       Ebenezer NDT Services
Taeyong Kim            South Korea     BikeMax
Cong Yue               China           Dianyi Media
Maria Mahdaly          Saudi Arabia    Fainak
Carlos Camacho         Mexico          Bamboorganic
David Alexander        Indonesia       Milksoup Apparel Indonesia CV
Munyaradzi Shadaya     Zimbabwe        Impetus Global
Tom Cohen              United Kingdom  Yuza Mobile
Michal Kacmar          Slovakia        Metallin-atelier Kovu
Obedient Tshabalala    South Africa    Pamko Trading
Michael Bruck          Germany         Chocri
Jonathon Nostrant      USA             Moshi
Craig Martyn           USA             BLMA Models
Ben Frein              USA             E-Holdings, LLC
Michael Jurken         USA             Majic Enterprises, Inc
Julie Thatcher         USA             The Southeast Waffle Company
Brayden Olson          USA             Novel Interactive
Brent Skoda            USA             CollegeFitness.com
Chris Jacobs           USA             Emergent Energy Group Inc.
Rich Littlehale        USA             YouRenew.com
Jonathan Manzi         USA             Vintage Network, LLC


                2009 FINAL ROUND JUDGES

    Name                                Company
Peter H. Thomas    Century 21, LifePilot
Don Tapia          Esscous Inc.
Jon Swartz         USA Today Technology Reporter
Matt Steward       National Services Group
Peter Schmidt      Automatika Ltd.
Jeff Sandefer      Acton School of Business
Maria Pinelli      Ernst & Young
Michael O'Brian    Pitfield Mackay Ross, CanaccordCapital Corporation,
                   C.M. Oliver & Company Limited (C.M. Oliver Inc.)
Alfredo J. Molina  Molina Fine Jewelers
Riaz Mamdani       The Strategic Group
Robert Kulhawy     Calco Environmental Group Ltd., Commerx
John Katzman       Princeton Review
Joel Holland       Footage Firm
Larry J. Haynes    Ernst & Young Entrepreneur Of The Year
Adam Gries         Social Dynamics, Social Expeditions
David Galbenski    Lumen Legal
Bo Fishback        Ewing  Marion Kauffman Foundation
Tony Falkenstein   Just Water International Limited, Bartercard New
                   Zealand Limited
Fraser Doherty     2007 Winner, SuperJam
George Dalton      Fiserv, Inc.
Catherine Crier    Cajole Productions, CNN, State Judge (Texas), ABC
                   News, 20/20, Emmy for Outstanding Investigative
                   Journalism
Peter Ciceri       Custom House Global Foreign Exchange
Darton Case        DartAppraisal.com
Howard Brodsky     CCA Global Partners
Adam Brotman       Starbucks


About The Global Student Entrepreneur Awards
As the premier global competition for undergraduate students, the Global Student Entrepreneur Awards (GSEA) inspire students to adopt entrepreneurial endeavors by bringing global visibility to student business owners who are innovative, profitable and socially responsible. Since 1998, the GSEA, a program founded at the John Cook School of Business at Saint Louis University, has honored outstanding undergraduates who juggle a course load as a student and run their own businesses at the same time. The Entrepreneurs' Organization (EO) took on leadership of the GSEA in 2006 to offer student entrepreneurs access to a global network of mentors, resources and connections from the most influential community of entrepreneurs in the world. The GSEA is generously supported by founding partner Mercedes Benz Financial and major foundations, including the NYSE Foundation the Ewing Marion Kauffman Foundation, the Acton Foundation for Entrepreneurial Excellence and the Todd Thomas Foundation. To nominate a student entrepreneur or to get involved, go to www.gsea.org.
About the Entrepreneurs' Organization
The Entrepreneurs' Organization (EO) -- for entrepreneurs only -- is a dynamic global network of more than 7,300 business owners in 42 countries. Founded in 1987 by a group of young entrepreneurs, EO is the catalyst that enables entrepreneurs to learn and grow from each other, leading to greater business success and an enriched personal life. Membership in one of EO's 116 chapters is by invitation only; the average member is 40 years old with annual revenues of US$17.3 million. For more information on EO, visit www.eonetwork.org or call +1.703.519.6700.
About Global Entrepreneurship Week
With the goal to inspire young people to embrace innovation, imagination and creativity, Global Entrepreneurship Week will encourage youth to think big, turn their ideas into reality and make their mark. From Nov. 16 - 22, 2009, millions of young people around the world will join a growing movement to generate new ideas and seek better ways of doing things. Tens of thousands of activities are being planned in dozens of countries. Global Entrepreneurship Week is founded by the Ewing Marion Kauffman Foundation and the Make Your Mark campaign. For more information, visit www.unleashingideas.org, and follow @unleashingideas on Twitter.
About Kauffman Foundation
The Ewing Marion Kauffman Foundation is a private nonpartisan foundation that works to harness the power of entrepreneurship and innovation to grow economies and improve human welfare. Through its research and other initiatives, the Kauffman Foundation aims to open young people's eyes to the possibility of entrepreneurship, promote entrepreneurship education, raise awareness of entrepreneurship-friendly policies, and find alternative pathways for the commercialization of new knowledge and technologies. It also works to prepare students to be innovators, entrepreneurs and skilled workers in the 21st century economy through initiatives designed to improve learning in math, engineering, science and technology. Founded by late entrepreneur and philanthropist Ewing Marion Kauffman, the Foundation is based in Kansas City, Mo. and has approximately $2 billion in assets. For more information, visit www.kauffman.org, and follow @kauffmanfdn on Twitter.
Add to Digg Bookmark with del.icio.us Add to Newsvine